Tortoise & The Hare: Twin Flame Edition
That 'Tortoise & The Hare' fable you heard as a child? There is a TWIN FLAME EDITION🔥🔥, a never-before told story that I bet you never knew! So let me tell you what really happened.

Once upon a time, in a land of the known, a pair of twin flames met and fell in love. 🐰🐢All the tortoise and the bunny wanted were to be together, but circumstances kept them apart. A wise Sage 👴🏻told them each separately that in order to manifest the greatest love of their lives, they must traverse through darkness and face their deepest fears until they reach the gate of Heaven on Earth and willingly surrender to the Great Unknown✨. "Would you be willing to do this for Love?" asked the Sage.

The bunny shouted, "Yes!" 🐇Being the nimble bunny that she was, she dashed fast and furiously across fields, deserts and even hopped across oceans to reach this gate, only to find that she was all alone! Just where was her twin flame honey?🍯❓

She waited and waited, at times falling into the depths of despair, wondering if he loved her and if he was ever going to come. Did he even say 'Yes' to the Sage's calling? Did his heart fall asleep or perhaps his legs? Did he forget about her?💔

Little did the bunny know that her tortoise honey was laboring hard trying to get to her as fast as he could, but being the tortoise, he could only go as fast as he felt safe. He trembled and strained with every step, wondering if his bunny's love for him was real.💭

Step by step by step, he made his way toward the gate. "I am safe. Keep going. I am safe. Keep going. I am safe." Safe to love, safe to receive love, safe to believe in true love. 🌟He taught himself to trust and open up, while his true love learned to let go of control, trusting that her dreams would one day come true.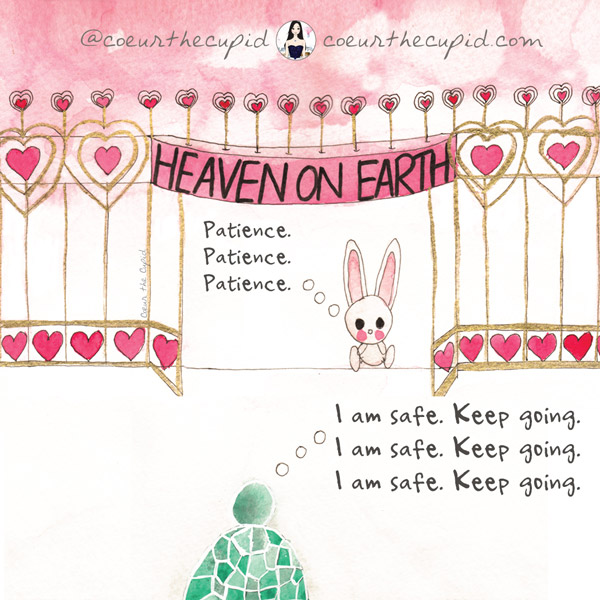 One day, tortoise Honey arrived at the gate and the lovers rejoiced. But still, how would he and his bunny be a pair? That's when Papa god and Mama goddess made them wings so that they could fly side by side within Heaven on Earth, forever in sync with each other. 🕊🕊They lived happily ever after.

La la la!