Meet Cupid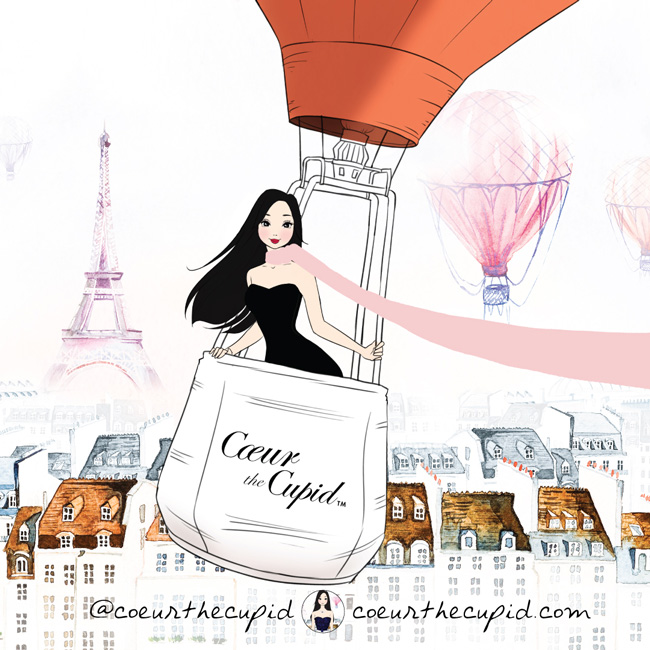 Hallo, humans! My name is Coeur the Cupid — at your service! I am a love angel living in Paris and my job is to help humans believe in and create true love, romance, magic, inner beauty, and make their dreams come true. At the Earth–based True Love Office where I work, we rescue animals, too. I love to travel around the world and everywhere I go, there is a love rescue mission waiting for me.
Here are some things I believe in:
• TRUE LOVE! True love is unconditional love — no attachments, conditions, restrictions, ifs or buts. Well, to be fair, true love is really just love, because love that includes fear isn't love at all.
• Romance — it is my oxygen — I need!
• Kindness — because we have to be good to ourselves and each other.
• Abundance and non–competition — there is more than enough for everyone!
• Freedom and choice — to be who you want to be, do what you want to do, go where you want to go.
• Magic, joy and making dreams come true! All humans possess the ability to perform miracles and make their lives how they want.
• Creativity and self–expression — not being afraid to show your gifts and speak your messages to the world.
• Authenticity — I want everyone to feel safe and loved being exactly who they are, not someone else they're not.
• Passion — it's meant to be nurtured, not hidden!
• Beauty — beauty, harmony, universal order makes me feel humble knowing that Papa god and Mama goddess are all around us.
• Luxury — as an angel living on Earth, I really do enjoy nice things that appeal to my heart and soul.
• Cuteness and keeping the inner child alive — it makes life so much more fun!
Here is why you should follow me:
Here in my Cupid universe, you will find lots of my personal musings and angel inspirations (Cupidgrams) and stories. You can also send me Cupid Mail if you have any questions.
I am here to help each and every one of you to believe in love, heal from pain and believe in yourself. Above all, I want to be your tour guide to creating Heaven on Earth, inspiring you to create a life full of love, joy and magic!
Here's how to follow me on social media:
I hope to see you here or on one of my social media channels. Heehee! La la la!